If you're looking to restore and renew your soil with an organic, effective solution, trust D R Fish Fertilizer Company to assist you. We provide a bevy of products designed to reinvigorate your soil and improve your yield, while also balancing pH and maximizing your return on investment. For more information about any of the products we offer or to inquire about formulations, please contact us via the form below.
Pricing
Drammatic "ONE" 4-4-.5
| Gallons | Price/Gal | Total |
| --- | --- | --- |
| 1 | $13.00 | $13.00 |
| 5 | $12.50 | $62.50 |
| 10 | $12.25 | $122.50 |
| 30 | $11.50 | $345.00 |
| 55 | $8.30 | $456.50 |
| Over 1,000 | $7.80 | $7,800 and up |
*Price increase due to the 17-25% recent increase in shipping costs.
Biological Products
Tainio products: Visit Tainio or call for pricing.
SP-1: $4.85/gallon
Residuce: Water soluble $90/lb=10 acres
AgriEnergy: Visit AgriEnergy or call for pricing.
Soil Amendments
Potassium Sulfate: 50lb bag, $37.50 or $0.75/lb
Calcium Phosphate: 50lb bag, $32.50 or $0.65/lb
Gypsum 97% calcium 50lb bag: $22.50 or $0.45/lb
Vinegar: $7/gallon
Tiger 90 Organic Sulfur 50lb bag: $35.00 or $0.70/lb
Humates for Trace Elements
Less than 30lb: $2.25/lb
30lb bag: $67.50
Dry Nitrogen Fertilizer
16-0-0 Allganic: 50lb bag, $44.50 or $0.89/lb
Prices may vary depending on shipping costs.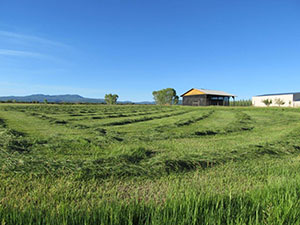 How to calculate fertilized irrigated acres with gated pipe:
Take the number of gates open/flowing x 2.5 x length of field ÷ 43,560 (sq ft/acre) = acres fertilized
Calculate side roll fertilized irrigated acres:
Width of sprinkler x length of system ÷ 43,560 (sq ft/acre) = acres fertilized
How much fertilizer do my crops need?
The answer depends on what's already in the soil or not. We recommend soil sample tests to determine crop and soil needs. We send our farm soil samples to Midwest Labs.
---
Fertilizer General Rules of Thumb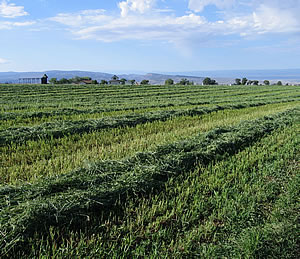 Fish Fertilizer: 3-4 gallons/acre, 3-4 times/year.
Humate for Trace Elements (most bang for your buck): 3-4 lbs/acre, 3-4 times/year to rebuild depleted soil and when trace elements return to average apply 1.5-3 lbs/acre/year depending on crop.
Nitrogen: Peas, beans, onions, garlic, and potatoes don't need much nitrogen but grasses, corn, small grains, green vegetables need more.
Hayfield example: 4 gallons/acre, 3 times/year, application rates may vary based on stress by heat or lack of water. Generally apply the 3rd or 4th gallons after each cut.